May 10, 2021 Savannah Morning News
Katie Nussbaum reports that an Amazon fulfillment facility promising 1,000 jobs and upwards of $250 million in investment has been announced for the Chatham County Development Site, better known as the Pooler megasite and located at the northeast corner of Interstate 95 and Interstate 16. Georgia Gov. Brian Kemp announced the plans on Friday.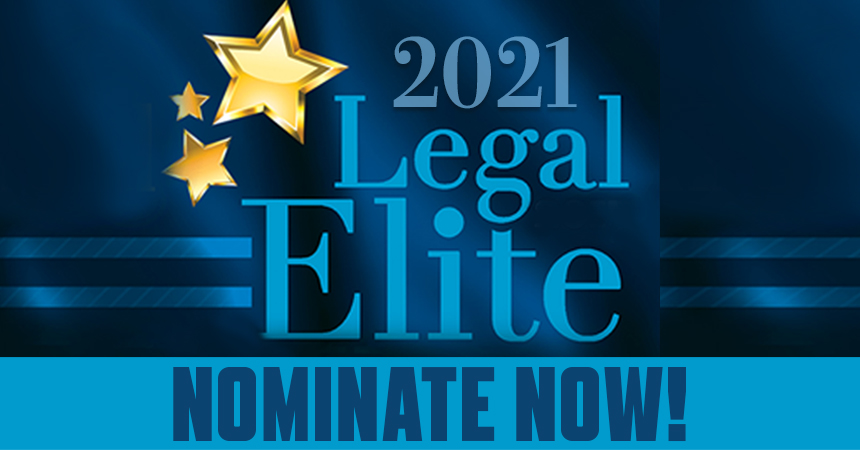 May 10, 2021 Georgia Trend – Exclusive!
Karen Kirkpatrick reports, who do you think is the state's most effective lawyer? Now through Friday, July 9, 2021, you can tell us. Georgia Trend magazine's annual Legal Elite listing will highlight the state's most effective lawyers in 16 different practice areas. The list of the state's Legal Elite, as chosen by their peers, will appear in the December 2021 issue.
May 10, 2021 Atlanta Journal-Constitution
Christopher Quinn reports that Sig Samuels Dry Cleaners has stood on the same in-town Atlanta corner since 1932, riding the ups and downs of the Great Depression, wars, recessions and neighborhood change. But the past year makes Steve Collins, co-owner of the family business, worry about the future.
May 10, 2021 GlobalAtlanta.com
Trevor Williams reports, for established tech operator Christine de Wendel, moving back to Atlanta from France seven months ago was an intentional homecoming, but perhaps one that would not have been easy at a different point on the city's growth cycle. The co-founder and North America CEO for restaurant tech startup Sunday left the city for college, having graduated from the Atlanta International School just after the city's Olympic coming-out party and long before it grew into a buzzy tech hub.
May 10, 2021 GPB
Maria Penaloza reports that a ransomware attack has shut down one of the largest refined products pipelines in the United States, and a security analyst said it shows that "core elements of our national infrastructure" remain vulnerable to cyberattack. The cyber attack hit Colonial Pipeline, which carries gasoline, diesel and jet fuel from Texas to New York and moves about 45% of all fuel consumed on the East Coast.
May 10, 2021 Albany Herald
Staff reports that the Georgia Peanut Commission's referendum received reaffirmation with a vote of 94.43 percent, the highest the commission has received in its nearly 60-year existence. The 2021 referendum was held March 15 through April 16.
May 10, 2021 Georgia Recorder
Ross Williams reports that Atlanta's historically Black colleges and universities are set to receive just under $32 million combined in grants from the American Rescue Plan, part of the $3 billion set aside for HBCUs in the $2 trillion relief package signed by President Joe Biden in March. "HBCUs are gems in our nation's system of higher education," U.S. Sen. Jon Ossoff told a group of Clark Atlanta University staff and students during a campus visit Friday.
May 10, 2021 The Center Square
Nyamekye Daniel reports that Georgia voters will decide whether to exempt certain farmers from taxes under a bill signed into law Friday by Gov. Brian Kemp. House Bill 498 will let Georgia voters decide in the November 2022 election whether family farms that form partnerships may have the same ad valorem tax exemption on farm equipment they qualified for before merging.
May 10, 2021 Capitol Beat News
Beau Evans reports that Gov. Brian Kemp signed legislation Friday to limit how much local governments in Georgia can cut funding for police agencies. The bill, sponsored by Rep. Houston Gaines, R-Athens, forbids cities and counties from cutting the budgets of most police agencies in the state by more than 5% over a five-year period, except during times of financial trouble such as seen during the COVID-19 pandemic.
May 10, 2021 Atlanta Journal-Constitution
James Salzer reports, without any public notification from his office, Gov. Brian Kemp last week quietly gave his approval to a new law allowing state leaders to set up committees that could raise money during General Assembly sessions while lobbyists are trying to get legislation passed. Senate Bill 221 — which was pushed by the Republican majority and opposed by Democrats — also allows new committees backing Kemp's reelection and those of legislative leaders to raise and spend unlimited contributions from donors, essentially circumventing current limits on how much individuals, special interests and businesses can give to candidates.
The post Georgia Trend Daily – May 10, 2021 appeared first on Georgia Trend Magazine.