March 22, 2021 WABE 90.1
Molly Samuel reports that Georgia Power and Southern Company say a delay is likely on the Plant Vogtle nuclear power expansion near Augusta. The delay would mean lower profits from the project for shareholders and more expenses for the companies involved, including expenses that can be passed on to ratepayers.
March 22, 2021 Georgia Trend – Exclusive!
Mary Ann DeMuth reports that the Pearlman Cancer Center at Valdosta's South Georgia Medical Center serves Lowndes County and an additional 14 counties, treating nearly 2,000 patients annually. Recently the center's two linear accelerators underwent a $6 million upgrade.
March 22, 2021 Atlanta Journal-Constitution
Maureen Downey reports that education advocates rejoiced when Georgia won a coveted Race to the Top Grant in 2010, galvanizing reform efforts in the state with an infusion of $400 million in federal funds. Under President Joe Biden's new COVID-19 stimulus package, Georgia schools will get 10 times that amount, $4.2 billion.
March 22, 2021 Athens Banner-Herald
Andrew Shearer reports that worldwide, annual box office numbers took a 71 percent nose dive in 2020 due to mass theater closures that resulted from the COVID-19 pandemic. Of the $4.2 billion in reported North American ticket sales, a significant portion of that was due to drive-in screenings and specialized outdoor pop-up events that allowed people to safely watch movies together.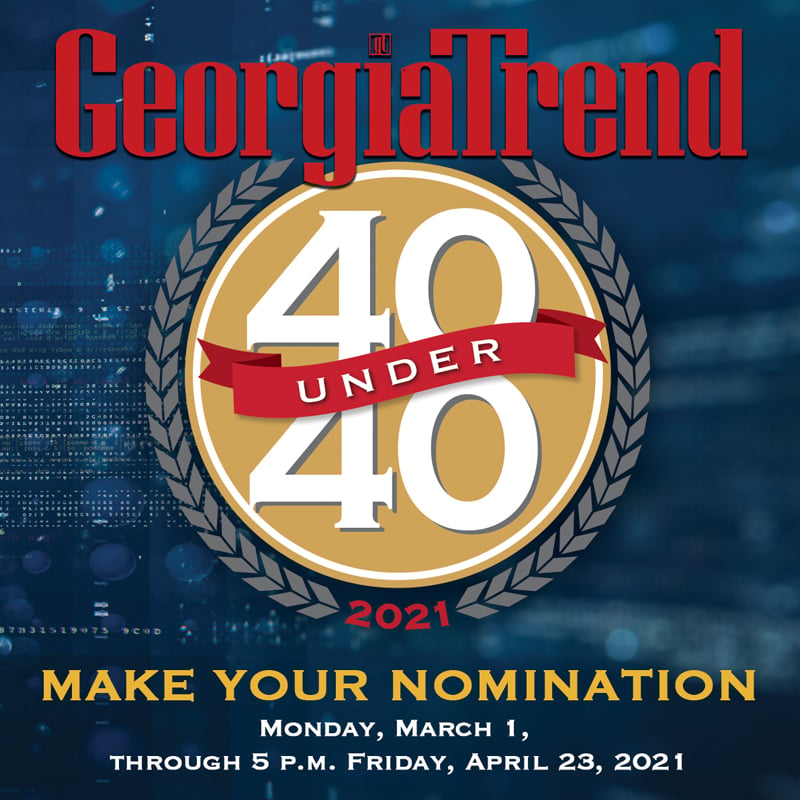 March 22, 2021 Georgia Trend – Exclusive!
Karen Kirkpatrick reports, each year Georgia Trend honors 40 of the state's best and brightest under the age of 40. Whether you know someone who's making a difference on the national stage or is a mover and shaker in his or her corner of the state, if they are under 40 years old as of Oct. 1, 2021, we want to hear about them. The ideal candidate is someone who is successful in his or her profession and is passionate about community service.
March 22, 2021 The Current
Laura Corley reports that for more than a decade, Georgia's lawmakers participated in an annual ritual: gambling lobbyists would help push bills to legalize the multibillion-dollar industry in the Peach State, and those efforts would die. After a year of financial belt-tightening due to the COVID-19 pandemic, there seems a possibility one of the half dozen gambling-related bills introduced at the General Assembly this session could actually become law.
March 22, 2021 GPB
Stephen Fowler and Emily Garcia report, as lawmakers work on a massive voting bill that would make sweeping changes to how elections in Georgia are run, some local elections officials say the proposals would make their jobs harder and hurt voters. The 2020 election cycle saw record-setting turnout, including 1.3 million absentee ballots in November, and unprecedented challenges because of the coronavirus pandemic.
March 22, 2021 Georgia Recorder
Ross Williams reports that a bill placing new restrictions on protests and the cities where they take place was revived late last week after failing to get a vote in a state Senate committee earlier. The proposed law would increase penalties for protest tactics including blocking a highway after police tell protesters to leave.
March 22, 2021 The Center Square
Nyamekye Daniel reports that the Georgia House has rejected a bill that would have launched a review of the state's revenue and tax structure. Senate Bill 148 would have created two panels to study and make recommendations for the state's coffers. It would have re-established the Special Council on Tax Reform and Fairness for Georgians and create the Special Joint Committee on Georgia Revenue Structure.
March 22, 2021 Politico
Alex Isenstadt and Zach Montellaro report that former President Donald Trump is expected to endorse Rep. Jody Hice in a campaign to unseat Georgia Secretary of State Brad Raffensperger in next year's Republican primary, according to three people familiar with Trump's decision. Trump publicly seethed about Raffensperger after the November election, when the secretary of state refused to support Trump's false claims that Georgia's 16 electoral votes were stolen from him.
March 22, 2021 Atlanta Journal-Constitution
Mark Niesse reports that Republican Georgia legislators are pursuing an overhaul of primary and runoff election rules — changes that might have prevented Democrats from winning U.S. Senate races if they had been in effect last year. Runoffs would be held four weeks after an initial election, cutting short the state's current nine-week wait.
The post Georgia Trend Daily – March 22, 2021 appeared first on Georgia Trend Magazine.